STITCHED Sneakers & Streetwear Event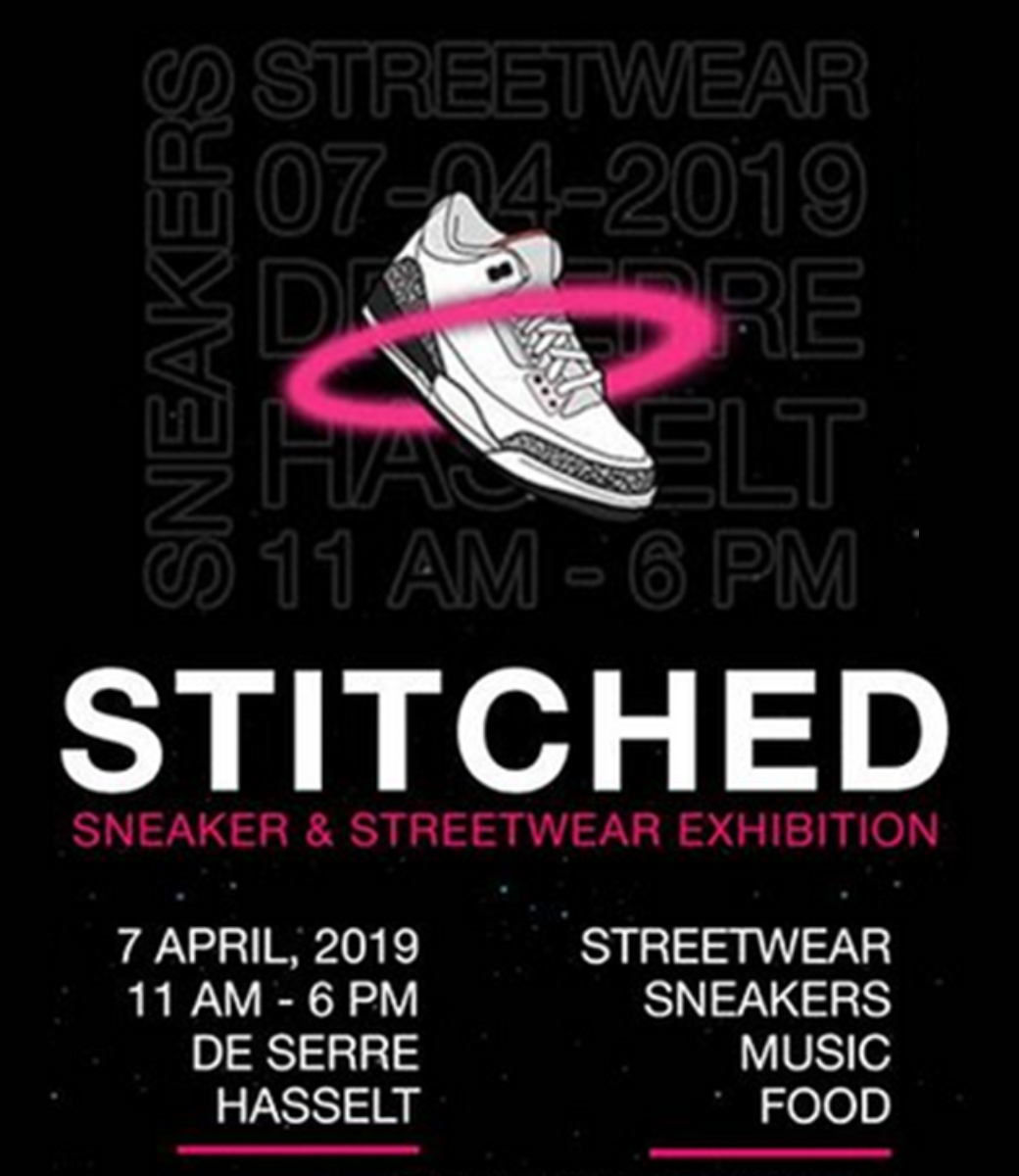 On April 7th we are attending the STITCHED Sneakers and Streetwear Convention in "De Serre" in Hasselt. We were able to have a small talk with the 4 founders about their new upcoming event and wanted to give you more insight about the event and why you shouldn't miss this first edition of STITCHED! Make sure to check out our Instagram for a chance to win free tickets check!
Could you tell our readers what STITCHED is?
STITCHED is a brand new sneaker and streetwear event founded by 4 Limburg based students. The event will take place in "De Serre", the new creative epicentre of Hasselt, that used to be the old administrative centre of the city.

Following the example of other successful major European sneaker fairs, we use a fairly simple concept. We create the possibility for resellers and local traders to offer their products in one place. We do this in an authentic and atmospheric environment with an extensive range of peripheral animation. We don't just want to focus on shoes and clothing but also on the culture around it, so expect good food, DJ sets, a skate ramp and much more.
How did you come up with the idea to start a new sneaker and streetwear event?
The idea to organize the event came from a shared passion. Whilst sneakers and streetwear are a hot item in the world, we experience a lack of events around this popular culture in Belgium and in the south of the Netherlands. With STITCHED we try to fill the gap with a sneaker and streetwear happening in the centre of Hasselt.
We wanted to create a community where individuals can be themselves and express themselves through sneakers, fashion, music and sports. Second, we create a space where people can buy exclusive sneakers and streetwear, or other items they've been looking for for a long time.

What can we expect from STITCHED?
We welcome everyone with a love for sneakers, streetwear and everything around it. From private collectors to individual sellers. Expect some of the finest national and international resellers and retailers in the game who sell the finest and most exclusive garments, sneakers and merchandise. For example: Approved Sneakers, Hympala, United Era, Juvenile, Halo, and of course GRAIL

With STITCHED we want to promote creativity and individuality. We created a space where different people can meet each other and share their vision. You can get an insight about the latest trends and get to know other brands you have never heard of before or find that one pair you have always wanted to buy but missed at launch.
Where do you see STITCHED in the future?
In the coming years we certainly want to expand the community and the event. We want to take STITCHED to a higher level and give our visitors an experience they will remember for a long while.


If STITCHED has attracted your attention, the event is on Sunday, April 7th from 11.00 until 18.00 at De Serre, Hasselt. Tickets can be bought for €4,- and are still for sale here!