Soulland meets Playboy

Soulland Meets Playboy

Soulland brought another great collab to Maastricht. By paying homage to what Hugh Heffner built Playboy on back in 1953, Soulland highlights Playboy's philosophy for the freedom of all human rights. The pursuit of openness represents a mission Soulland stands for and presents Playboy as a cultural leader towards this cause. By setting Playboy in the centre of the Tight against discrimination, racism, sexism, and war, the magazine is relevant for all of these topics and represents ENTERTAINMENT FOR ALL. Apart from the design Soulland took another element from Playboy to make this collection unique. Instead of dropping the whole collection at once, they only drop one item a month just like a magazine subscription and features a cover of the corresponding month of the drop. Combine this method with the limited quantities available and you have a must have collection to add to your wardrobe.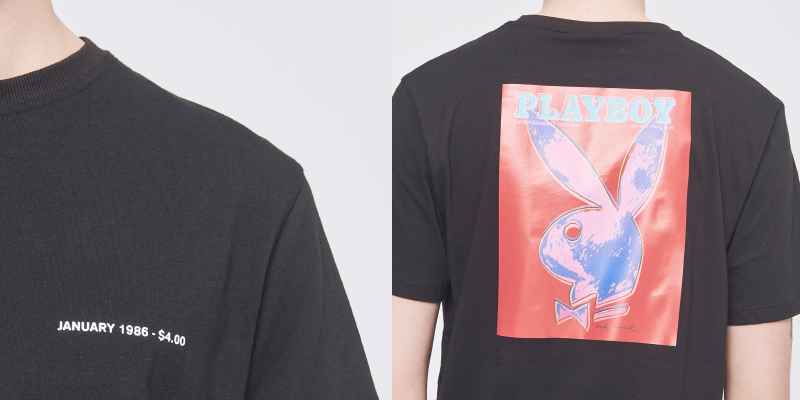 Soulland is an company that is very aware of their ecological footprint so they use woven label in OekoTex certified polyester. Oeko-Tex is a test and certification system for textiles. The standard focuses on limiting the use of harmful substances in relation to the health of the end user. Hangtags are made of FSC certified paper and recycled plastic. their poly bag made in biodegradable plastic. Of course we as GRAIL support this eco-friendly way of living so just like Soulland we advise you all to purchase quality products, wash them responsibly, own them for a long time, archive them or pass them over to a new owner.

The Soulland meets Playboy shirts are a relaxed cut t-shirt with a text print on the front and a digital print on back. 1x1 rib at neck opening. Garment is twin needle stitched at armhole, neck, bottom and sleeve hem. Made in 190 G heavy jersey.
October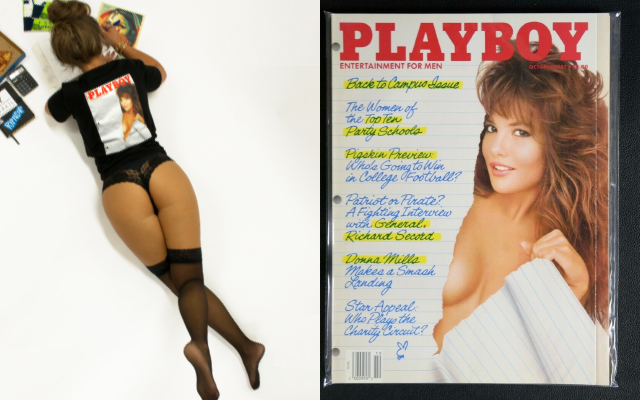 October the month of the beginning of fall, Halloween and sweater weather, but also for a new drop in the monthly Soulland meets Playboy collaboration. This time the cover model is also the Playmate of the month; Brandi Brandt a.k.a Fine Brandy. In March 1990 issue she shared the cover with Donald Trump. Brandi lived the rock & roll life style, she married Motley Crue bassist Nikki Sixx but later in here life she was sentenced to serve jail time for drug trafficking cocaine to Australia. In this 186 pages filled Playboy you could find pictorials like 'Oh Donna' about actress Donna Mills interviews with General Richard Secord about the covert operations in the Iran war and multi talent 'Mr Baseball' Bob Uecker former MLB Baseball player comedian and sports commentator.
September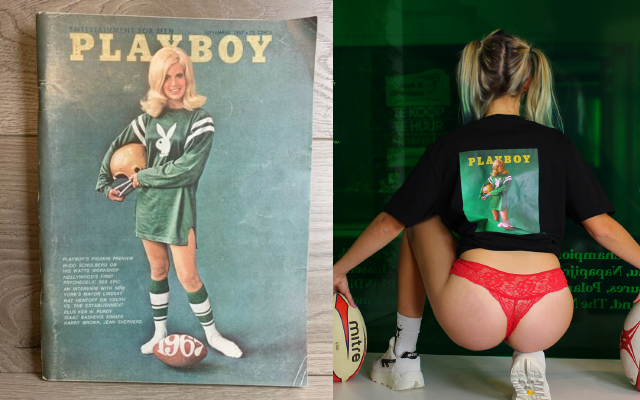 September is here with the new Soulland meets Playboy and brings one of the strongest covers in the series. The football-togged damsel gracing the cover is Bo Bussmann shot by Barry O'Rourke representing the start of the college football season. the 262 page Playboy had several interesting articles like; Playboy interview: John V. Lindsay "a candid conversation with the crusading mayor of New York city", and pictorial with Susan Strasberg and Peter Fonda in clips from the film "The Trip" Hollywood's first psychedelic sex freak-out. Playmate of the month was Angela Dorian a TV and movie star who's real name was actually Victoria Vetri and eventually even became Playmate of the year 1968, those pictures were one of the Playboy pictures that made it into space aboard the apollo 12 space mission.
August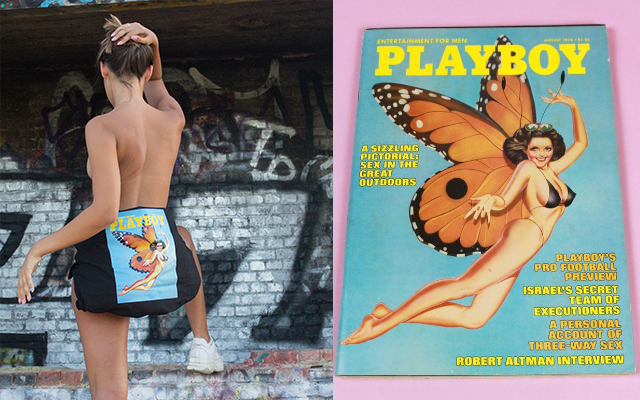 Even during these hot temperatures out here right now Soulland manages to heat up the room even more with their newest Playboy meets Soulland drop the august edition. The idea of this cover came from Vladimir Nabokov a reader of the magazine and a lepidopterist (a butterfly collector) he wrote a letter to playboy describing how much butterfly wings resembled the head and ears of a rabbit in shape. With this letter he included a drawing, that drawing ended up as the playboy cover for august 1976. Centrefold model Linda Beatty was a model and actress who can be recognised from the classic movie 'Apocalypse Now' where she was a playmate during the USO tour during the Vietnam war. The magazine itself was 198 pages and like usual was filled with articles like an interview with Hollywood director from M*A*S*H, Nashville and Buffalo Bill and the Indians.
July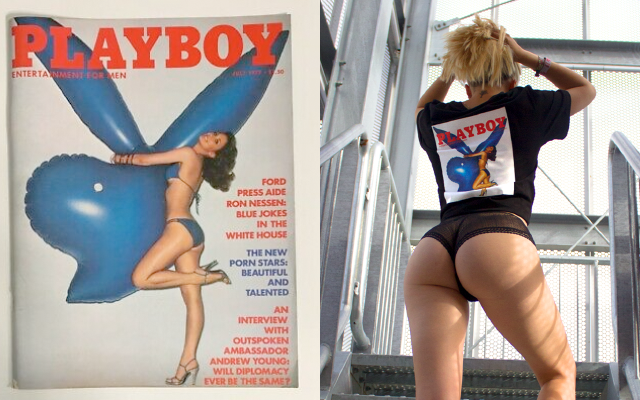 Soulland meets Playboy is back again with another great new edition. 234 pages filled with adverts pin ups and articles with lots of quality photographs and illustrations, the 1977 July Playboy cover features Pamela Serpe, photographed by Claude Mougin. If you are a 1970's TV buff, you could recognize this month's cover girl, Aside from appearing in several Broadway productions, Pamela's been featured in such TV series as Police Woman and The Rockford Files and has done a number of commercials. The big-eared beach toy she is holding was made out of waterbed plastic made by L.A.'s International Waterbeds. The centrefold Playmate was Sondra Theodore a former Sunday school teacher, Theodore became the girlfriend of Playboy publisher Hugh Hefner for several years, living alongside him at the Playboy Mansion. She can be seen on the famous Playboy pinball machine alongside Hefner and fellow Playmate Patti McGuire. During this time she sang with the "Singing Playmates". 
June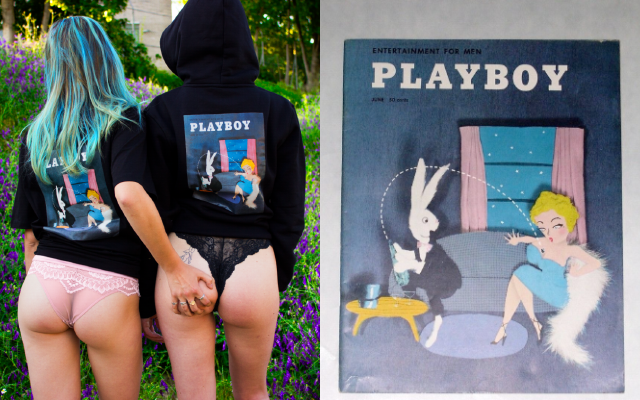 The first half of the year is already over and Soulland has dug very deep into the Playboy archive to find a cover for this months drop, the 6th tee in the Soulland meets Playboy series. the June edition has the cover 1954 by the illustrator artist Arthur Paul, also called as Art Paul was the founding art director of Playboy magazine. The fist Playboy released in December 1953 so it makes this the first June Playboy ever. It was only 52 pages and the Playmate of the Month was Margie Harrison Who was actually the First playmate of the month ever in second released Playboy in January 1954. It featured an interview with Orson Welles who was world famous for his War of the worlds radio broadcast, a pictorial named Outside with de Dienes it had 3 pages of nudes photographed by Andre de Dienes and a article about Playboy's dream car that described a concept car design made by Ford motors named the FX-Atmos that looked like it was taken right out of a episode of The Jestons cartoons.
May
New month new Soulland meets Playboy, in this May edition the cover model was the 1976 Playmate of the Year Lillian Müller and the milkshake she is holding forms the iconic playboy rabbit logo. Fun fact: During this photo shoot the vanilla ice cream in the glass kept melting under the hot studio lights so they eventually had to replaced it with mashed potatoes. The magazine was 246 pages of period adverts, pin ups, quality pictorials and illustrations and of course some great articles and interviews. The main interview was with the cast and producers from Saturday Night Live one of the still running biggest live TV shows today that included big stars from that era John Belushi, Chevey Chase and Dan Acroyd.
April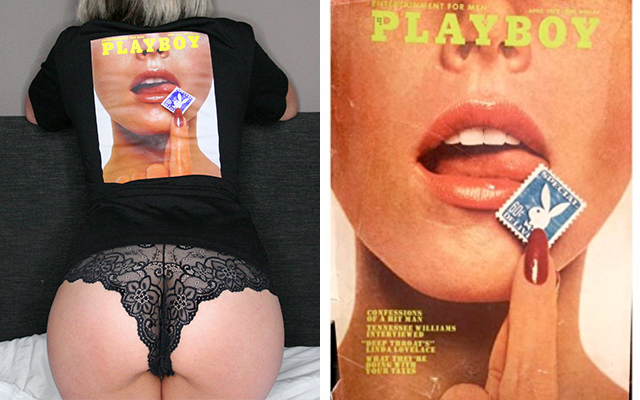 The Soulland meets Playboy April is available right now! the April 1973 Playboy was 246 pages and had Lenna Sjöölblom as cover model and Julie Woodson was Playboy's Playmate of the Month. Her centrefold was photographed by William Figge and Mel Figge. Woodson was only the third African-American Playboy Playmate of the Month, the earlier two being Jennifer Jackson in March 1965 and Jean Bell in October 1969. These vintage editions are not as risqué as you would expect, and actually do have a lot of articles covering a variety of topics and multiple interviews, like in this edition the interview with Pulitzer price winner Tennessee Williams called "A candid converstion with the brilliant, anguished playwright". 
March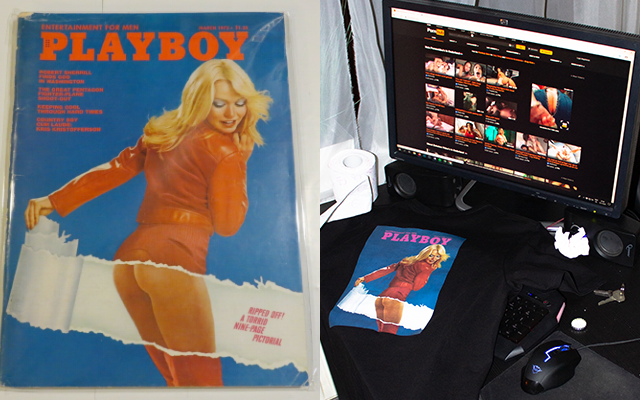 A new drop of the Soulland meets Playboy is around the corner again, the 1975 March cover photo shoot is called Ripped Off: Watch how everything from wigs to plastic wrap gets peeled away in a flurry or erotic activity. the cover model for this shoot is Eva Maria. this playboy was a 210 pages thick magazine the playmate of the month was Ingeborg Sorenson who was miss Norwat in 1972 and runner up in the Miss World competition the same year, it featured a black and white pictorial shot by Douglas Kirkland of Margot Kidder with text by Margot herself. Margot Kidder was most famous from her role as Lois Lane in the 1978 Superman movie with Christopher Reeve and her Oscar awarded role in the horror movie "The Amityville Horror". The main interview was with Billie Jean King the superstar tennis player who fought for women's rights by challenging Bobby Riggs to a match later called "Battle of the Sexes" which she won all to get equal payment for women's tennis players by showing women could play tennis as good as men could.
February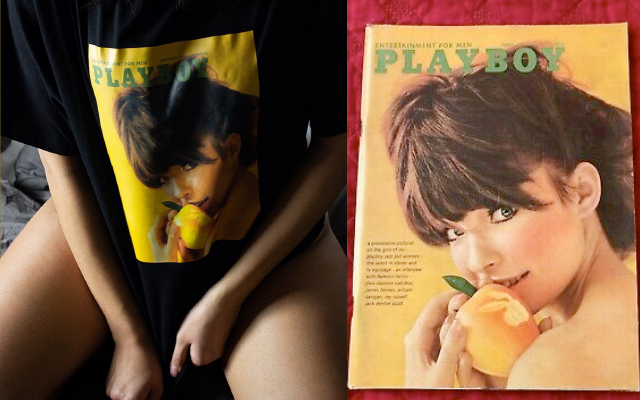 The second Soulland meets Playboy drop is finally here a 192 pages thick February 1966 Playboy with cover girl Sissy. The honour of playmate of the month went to the "student princes" Melinda Windsor. This edition featured a article about Playboy's Jazz '66 winners of the tenth annual poll with pictures of Paul Desmond Ella Fitzgerald and the legendary Frank Sinatra, a 10 pages pictorial on the Girls of Rio, an interview with the 4 Oscar award winning director and screenwriter Frederico Fellini and a full-page Vargas Girl; fiction: "A Valentine" story by William Saroyan.
January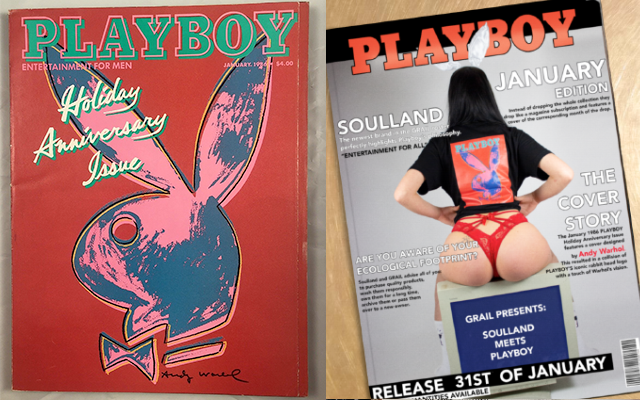 The first drop is the January edition and features the January 1986 PLAYBOY Holiday Anniversary Issue with a cover designed by Andy Warhol. This resulted in a collision of PLAYBOY'S iconic rabbit head logo with a touch of Warhol's vision. The holiday magazine had 252 pages , with Rare Sherry as playmate of the month, included several articles like an interview with sex therapist Dr. Ruth Westheimer, 20 questions with Jay Leno and an article with the title "Dear Playmates - when is an older man too old for you?" and a pictorial of the then married couple Melanie Griffith and Don Johnson.
Cant wait to own your edition of The Soulland meets Playboy monthly drop you can find it here