Hi-Tec HTS74 Silver Shadow RGS


HI-TEC® kicked things off with a bang when they burst onto the scene in the mid-1970s. Established in 1974 in Shoeburyness, at the mouth of the Thames Estuary in southeast Essex, the brand has long been associated with two particular styles: the Squash and the lightweight Sierra Light hiking boot. In the 1980's HI-TEC® competed with its more established sporting goods counterparts by dropping some of the most underrated runners of the era. Finally, some decades later, those silhouettes are finally getting the shine they deserve

HI-TEC® classic is getting a bold overhaul for modern wearers. In 1981, before ultramarathons (marathons with a longer length than the traditional 42.195 KM) were even on HI-TEC®'s radar, the brand introduced the Silver Shadow. these trainers were Hi-Tec's first ever performance running shoe. The aim was to deliver the Rolls Royce for your feet – fusing a classic, sophisticated design with performance comfort features. It was designed for those looking to run on the tracks, trails and streets.Worn by the recruits of both the British and German armies, the Silver Shadow was the best bang-for-your-buck trainer around, and an all-purpose one at that. There's a reason it was once Britain's top-selling running shoe of all-time.

Instead of just revisiting that 1981 design, the HI-TEC® team have taken the versatile looks of the OG and modernised them for the wearers of today by swapping out its original sole unit for some of the chunkiest tooling out there: that of the Vibram RollinGait (RGS). The Vibram® Rollin Gait System (RGS) is an innovative technology that helps the natural roll of the foot, blending form and flexibility. First developed in 2011, RollinGait was actually created by Vibram in conjunction with the HI-TEC® product team and foresaw the chunky, supremely comfy kicks that would dominate the street style of wearers some eight years later.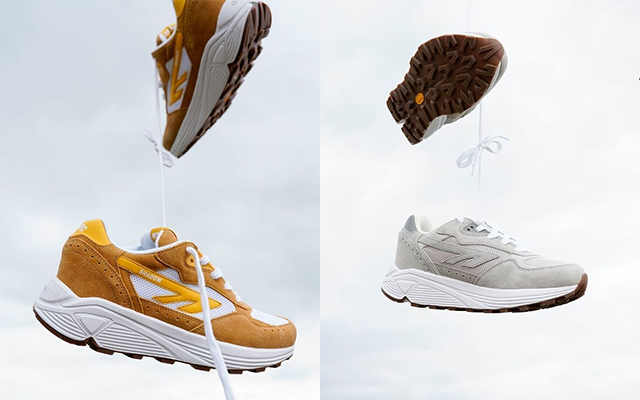 Already popular with high fashion brands, the functional RollinGait System (RGS) features an innovative midsole/outsole combo that's specifically geared toward facilitating the natural movement of the foot in order to drastically cut down on muscle fatigue and helps you walk for longer. When the foot first hits the ground, the centre of pressure moves from the heel to the metatarsus and then the toes. The unique curved shape of the RGS sole supports the natural movement of the foot on the ground, step after step




Billed as 'a pure performance trail running product', RGS has been coupled with everything from pig suede and air mesh to premium leather and wooly suede for the HTS74 Silver Shadow drops, as the best-selling 80s running design has been perfectly reimagined for today.
Less energy consumption + less muscle fatigue = more endurance.

Ready to start your adventure on your own Hi-Tec sneakers you can find the new collection here